What Other
People Just Like You Are Saying

About Align Therapy in Lehi...
"I was skeptical if they could help my scoliosis since I've lived with it as an adult for years. On top of that I was having back pain for about 8 months while at the gym. I was pleasantly surprised to find really helpful tools and techniques that were customized to my specific type of scoliosis and customized towards my type of workouts. I had tried everything before finally coming here, and I was skeptical if they could really fix it. I found it really helpful and walked away with fantastic tools for both my scoliosis and weight lifting. Went for 8 sessions and my back pain has decreased significantly. I feel like I have much better back stability, posture and long term habits to avoid future pain. They really did an excellent job. Thanks guys!"
"We LOVE Align Therapy! My 11 year old daughter has Scoliosis and has been going to Align Therapy for about a year now. Everyone there is fantastic and we have had nothing but great experiences with all of the staff. Everyone is so friendly and accommodating that it feels more like going to visit family rather than going to a doctor's office. Don't get me wrong we see and feel the health benefits of the visits and the office is very professional, but with a friendly welcoming feeling. My daughter frequently asks, "When do I go for physical therapy again?!" She always looks forward to going to see Dr. Dave!
We definitely would recommend Align Therapy to anyone in need of the services they offer."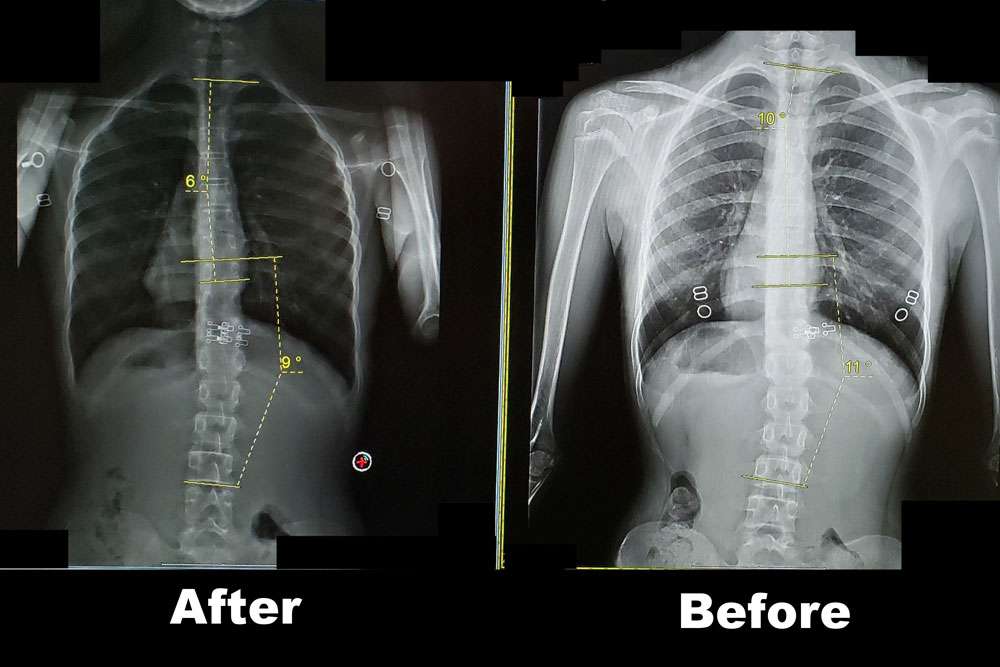 This patient is a 13-year-old female with an original curve measuring 22 degrees. In this comparison, the before x-ray was after she had been doing Schroth training for 2 months. (We did not have access to the original x-ray) The after x-ray was 6 months following. She showed a significant reduction in her curve to 6 degrees in the thoracic and 9 degrees in the lumbar. (under 10 degrees is not considered scoliosis!) This is a great example of a mild curve reducing with scoliosis specific exercise.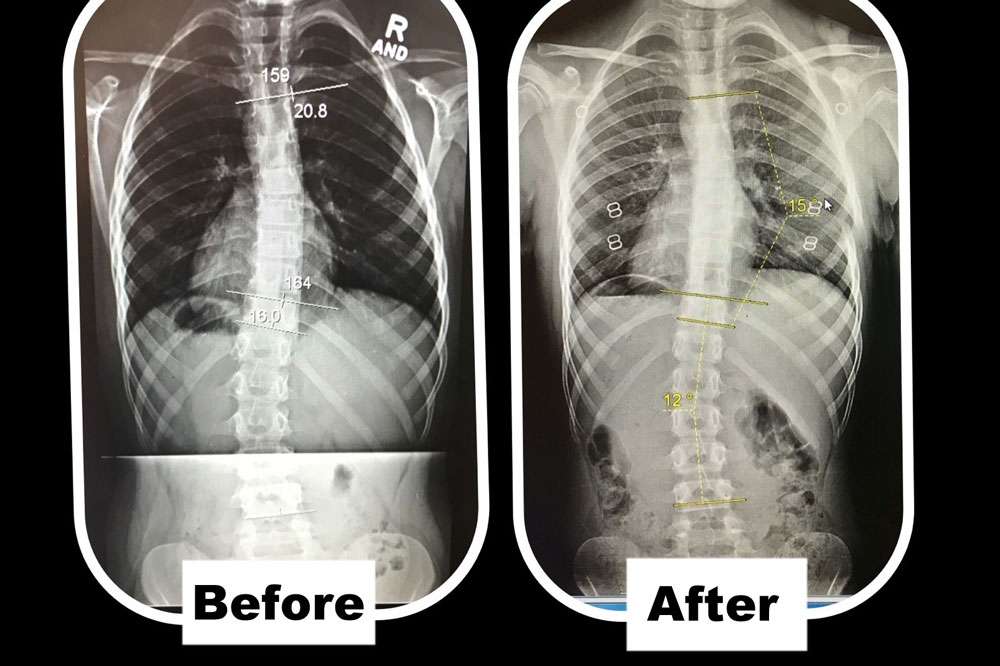 A 12-year-old female patient who initially had a curve of 21 degrees in the thoracic and 16 in the lumbar. We began scoliosis specific exercise in June and then she had a follow-up x-ray in December showing a reduction to 15 degrees in the thoracic and 12 in the lumbar.
"For the last 20 years, I have been to many Physical Therapy offices! I have never had the incredible treatment that I do at Align Therapy. I love that the therapist is the one with me from the beginning to the end of every visit. I feel that I am progressing without any pressure that I need to be done and out the door. They listen to my concerns and are always willing to adjust to anything that I do not feel comfortable with. I feel safe and well taken care of and you cannot find that very often these days. I love the entire staff and will never go to another physical therapy office, ever. Thank you to everyone for taking such good care of me!"
"I've had lower back issues for decades. Went to chiropractors, back and spine specialists at TOSH, and other physical therapists. Nothing. No relief or improvement. Even initially at Align Therapy, I had no improvement with the usual stretches and muscle strengthening exercises. But then Align tried something I've never had done before. Dry needling. It worked -almost immediately! Amazing! It made my muscles relax and release from their chronically contracted state. Probably 80% better than before. Why has is taken 40 years and more doctors than I can count to figure this out? Congrats to the Align Therapy staff for going where no one has gone before (yeah, I'm a Trek fan) and finally getting me some serious improvement!"
"I visited Align Therapy for upper back trouble. The staff was very knowledgeable and skilled. I suffered with the upper back pain for over a year before coming in. Other specialists said I should just wait it out and let my body heal itself or else go get an MRI (very expensive) and then go see orthopedic surgeons. It wasn't getting better and I was in constant pain. I instead went to Align Therapy and they were able to help me resolve my back pain within a few short months of therapy. Before visiting them I thought I was going to be stuck with pain long-term or else would have to spend thousands to get MRI's and orthopedic consults. But I didn't have to. It was great. Align Therapy solved my issues. I looked forward to my visits. I would recommend them to anyone."
"I started running again about a year ago. I had tried to be a runner a few times in my adult life, but I was always plagued with injuries. A few months into running I started to have some pain again and decided it was time to see a physical therapist. I met with David Butler, and starting seeing improvement right away. David worked on ankle tendinitis, and helped me with my running form. The exercises he gave me helped me strengthen my weak areas and I noticed a difference on my runs. My pain improved and I had someone to go to any time I noticed something new so that I could keep running healthy. When I started working with him I could run about 3-5 minutes at a time without walking and at about a 11:30-12 minute per mile pace. Today I ran my first half marathon at a 10 minute per mile pace and felt great the whole way!"
"We've seen them for neck pain, neurological issues, a broken foot, dry needling, and the list goes on. They've done an amazing job for me and for my wife. Dave is awesome and the entire team there is friendly and professional. Recommend to anyone needing great PT!"
"I went to physical therapy for headaches and neck pain for about 2 months! The staff here are very knowledgeable and friendly. Dave is very nice and patient. I am pleased that I have less headaches and have learned the tools and exercises to help strengthen my neck :)"
"Everyone there is very personable. I don't ever feel rushed and I feel heard. I have not had a headache since I began my therapy, and that is a miracle."
"The staff is friendly and Dave knows his stuff. I'm so happy I was referred here. The headaches that I have been dealing with for 7 months are finally going away."
"I love Align Therapy!
The staff are so welcoming and truly care about YOU!
Dave Butler is not only the best physical therapist I have worked with, but he is the only
physical therapist in Utah who specializes in the treatment of scoliosis. Specifically, the Schroth method.
I am so glad I found them and l highly recommend Align Therapy."
"Align Therapy has been amazing in treating my son's scoliosis. We drive over an hour every week to bring him to therapy because they are wonderful to work with and truly care. My son is looking and feeling so much better."
"I have 2 kids with mild scoliosis curves. We wanted to help them learn some techniques they can use to help compensate for their curves now and in the future. Korey and Char have worked so well with my teens! They are patient, kind and very knowledgeable. I have noticed a difference in my kids' posture and confidence and whole heartedly recommend Align physical therapy."
"I highly recommend getting a running assessment at Align Therapy. Dave assisted me in improving my running form to limit risk of injury and maximize performance. He is a very good listener and provided useful, realistic guidance."
"Great experience with my running assessment. Dave helped me increase my running form awareness and gave me a couple of things to work on that have helped me out immensely. Running farther with more efficiency and less pain. Highly recommend doing a running assessment whether you're a beginner or advanced runner. Thanks Dave!"
"Align therapy is a professional but family oriented Physical Therapy. They are top notch when it comes to scoliosis PT, but also with running form. They give you treatment or exercises to apply to getting stronger, but they also explain why they are important. Dave is really good at looking outside the box to get to the root of the problem. Can't say enough good things about Align!"
"This was a WONDERFUL office to work with when my 3 year old daughter had unexplained back pain. David was so great with her and they are very knowledgeable. I would highly recommend this Physical Therapy office."
"I was very impressed with Dave and his clinic. The running analysis was so helpful, but the biggest benefit was getting Dave's feedback on what I can do to correct the issues to help my knee and back pain. Great PT, great staff."
"I fell and had severe back pain. I went to a spinal specialist and he sent me to Align Physical Therapy. I was skeptical about it being helpful. The staff was very pleasant and Korey, the therapist, knew what he was doing. I am able to do the exercises at home now. My back pain is minimal. and I have days without pain. I am able to do things that I couldn't do before the therapy. It was succcessful."
"Align Therapy has been a very positive experience for me.  The staff is friendly and helps me to relax. I have seen improvements in my ability to walk further with less pain.  Standing in the kitchen and cooking is less stressful than before. I would highly recommend Align Therapy to anyone needing help in mobility!"
"My daughter was diagnosed with scoliosis at age 7. I did my own research and found Align Therapy.  We made sure to complete the home exercises almost every day. Now her posture is noticeably better and her hips and shoulders are more balanced and even. We are very encouraged by her progress."
"Before therapy, I had a hard time sleeping, sitting, and standing without pain, as well as performing my job.  Now, my back feels stronger and able to perform tasks without fatigue.  With the help of wonderful PTs and exercises, the pain in my back is at an all time low! Take that Scoliosis!"