A common comment from the scoliosis and spinal deformity patients I see is "I wish I would have found you guys sooner". This is after they start to see the benefits from specialized spine treatment that is truly one on one with the therapist.
One of my favorite things to do in this great state of Utah, is travel to the Southern part of the state to hike, bike, raft, and go canyoneering. There is so much to do and see in that area. This may stem from my teenage years in the boy scouts and our adventures in Southern Utah.
A couple weeks ago we had traveled down to Moab to ride an epic mountain bike trail called the Whole Enchilada. It was an amazing ride, but the night before, we decided to check out Dead Horse Point in Canyonlands National Park.
I am a native to Utah, and have spent a considerable amount of time in Southern Utah, but I had never been to Canyonlands. As we drove to the park, I realized I had missed out, big time!
One of the best times to go to Dead Horse Point is at sunset. The views are amazing, and with the evening light, it is breathtaking! It is so beautiful that you are usually there with a couple hundred other people trying to capture the sunset in their minds and cameras.
Well, we got there just in time to see the sunset and began wandering around Dead Horse Point. Looking down over the cliffs is dizzying, and the expanse that is before you is awesome (rivaling the Grand Canyon in my opinion).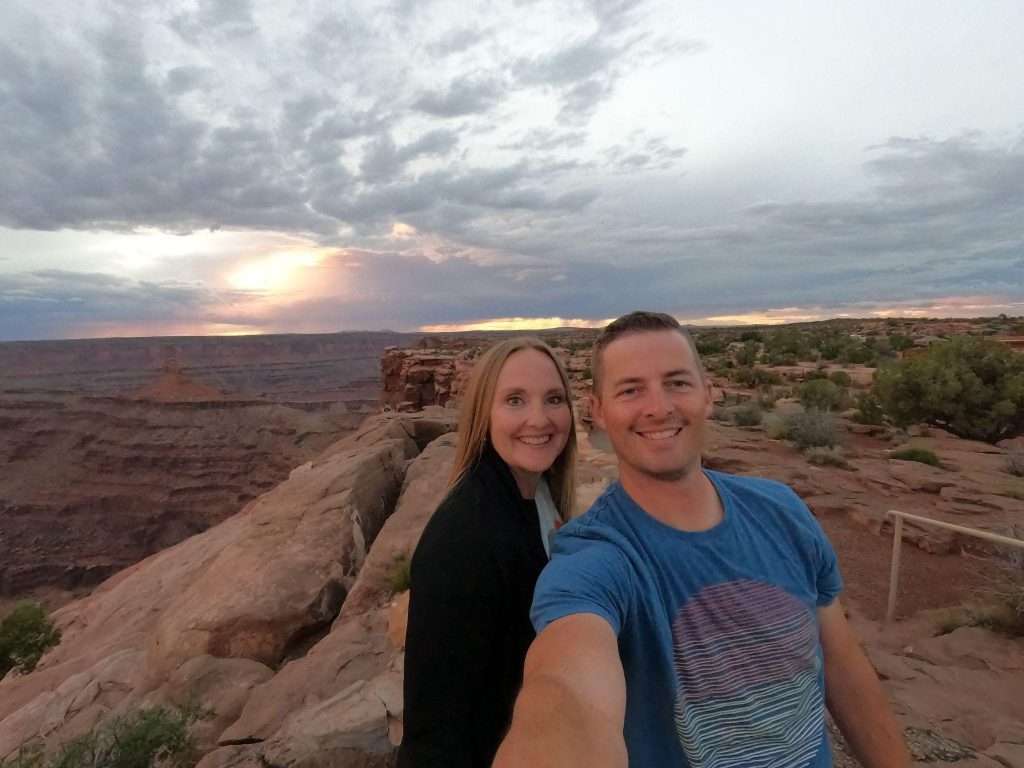 As we wandered, I noticed a tree clinging to a pile of rocks next to the cliff. Since I have specialized in scoliosis, my eye gets drawn to curvy things that look like scoliosis spines. This tree looked like a "C" shaped scoliosis curve. Naturally I had to get a picture of it.
We started walking back to the car and I made a comment about the "scoliosis tree", when a guy in a Huskers t-shirt came running up behind us and asked "Did you just say scoliosis tree?"
We found out his name was Cameron, and he then began telling us he bought a picture in Seattle at an antique store of a woman standing next to a curly tree. On the back of the picture it said "Dead Horse Point, Canyonlands". For some reason, Cameron decided to make a summer adventure out of finding the tree, resulting in a road trip from Seattle.
All day he had been searching for the tree and he even had asked many other people to help him that day. No one could find the tree. He pulled the picture out of his pocket, and sure enough, it was the same tree!
I walked Cameron over to where the tree was and, to his excitement, it really was the same tree.  His journey was successful!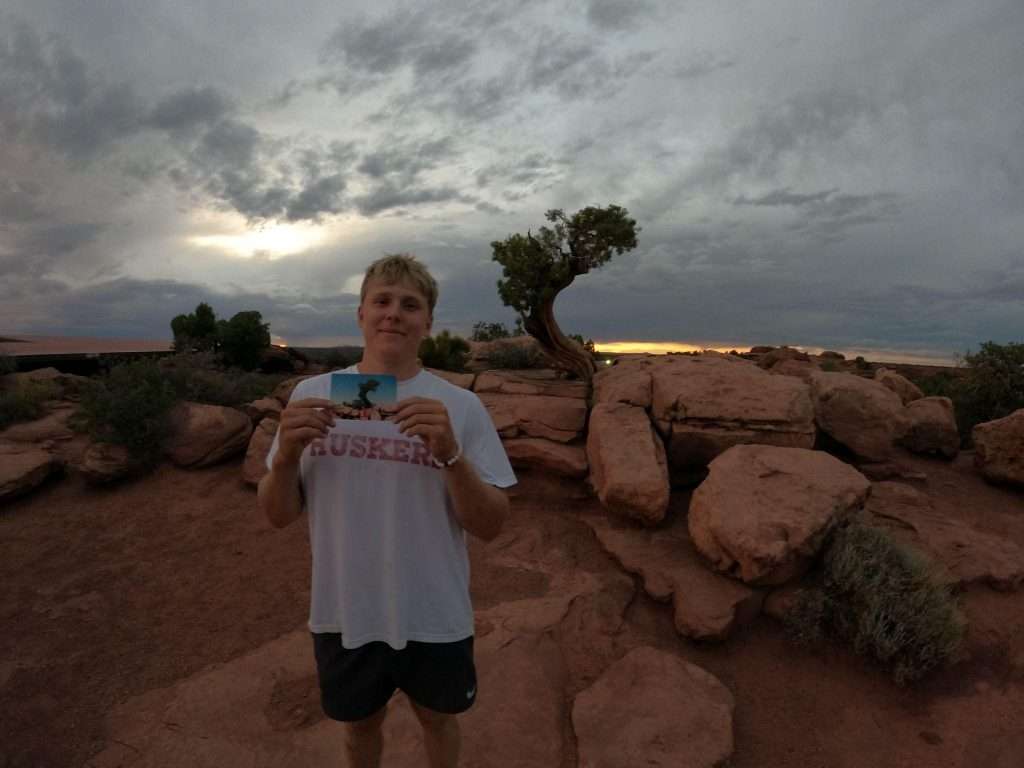 Now, you are probably wondering what this has to do with finding the right fit for scoliosis treatment.
Frequently, at my clinic, I have patients who have been searching for a long time for a specific treatment for their scoliosis or spine problem. This search usually has been many hours on the internet, talking to doctors, watching videos, and trying different things.
Many of them have not been successful in finding the right fit. They have usually tried medications, injections, chiropractic, general physical therapy, massage….etc. Some things help temporarily, but haven't produced the results they are looking for.
This is like Cameron's journey. He had traveled far and asked others to help him find this tree, but was not successful. He found many trees that looked similar, but none that were the same and the right fit.
Then, when he heard someone talking about what sounded like a better fit, he had to ask. This led him to finding the perfect fit.
Many times when I see a new patient who has been to other providers and tried different things, they comment, "I wish I would have found this sooner!". When the right treatment for scoliosis and spinal deformities is found, it just works better.
As with all musculoskeletal problems, when the actual underlying problem is addressed, the outcome is so much better. Using methods like The Schroth Method, and the SEAS Approach helps us to get to the underlying problem…the spinal curve.
No, we are not "fixing" the curve, but we are working to reduce the imbalances and improve the overall posture and symmetry of the spine. This reduces pain and muscle spasms, and allows the muscles to function in a better way. That is how we get great outcomes!
It was a really cool experience helping this random guy from Seattle find his tree, but the experience of helping someone find the right kind of treatment for scoliosis is even more rewarding. We have seen treatment for scoliosis change lives, avoid surgery, and reduce the need for pain meds and injections.
If you are searching for treatment for scoliosis or a specific spine condition, don't give up! There are amazing treatments out there that can really help you meet your goals. Your journey can be successful, just like Cameron's.
For more information on scoliosis specific treatment, along with other spine problems, check out our scoliosis portal. It will give information on what can be done and you can see some before and after along with stories from our patients.
You can also request a free consultation where we can talk about if our specialized treatment is right for you. And…if it is a good fit, why not get started on the journey? There really is no time like the present.
Thanks for reading!
David Butler, Physical Therapist